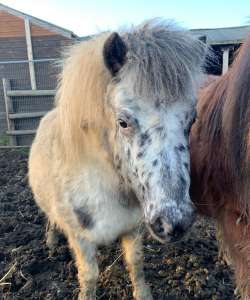 MINI
Breed: Shetland x
Gender: Mare
Colour: Spotted
Height: 9hh
D.O.B 15 June 2017
Mini was relinquished to us at the start of this year, along with 3 others, due to a change in their owners circumstances.
Mini is a little sweetheart and follows the staff around the yard like a puppy.
She's a good girl to groom and catch and is a superstar the farrier. She was ok for the dentist but wasn't a fan of the latex gloves in her mouth…and showed her disapproval by standing on her back legs
Mini would be looking for a foster home where she would receive lots of love and fuss.
Mini is ready to further her education if needed but would also be more than content with cuddles and kisses.
If you would like to find out more or think you could give this lovely lady the home she deserves then we ask that you complete a foster application form in the first instance. More information on fostering a pony from us can be found along with a downloadable copy of the foster application at the following link:
If you would like to find out more or think you could give this pretty girl the home she deserves then we ask that you complete a foster application form in the first instance. More information on fostering a pony from us can be found along with a downloadable copy of the foster application at the following link:
https://ehpps.org.uk/fostering/fostering-stages/
Once completed either email a copy to [email protected] or post to EHPPS, Pitsea Hall Lane. Basildon, Essex SS16 4UH
Fostering fee of £100 applies