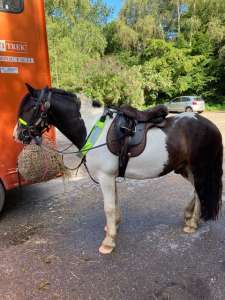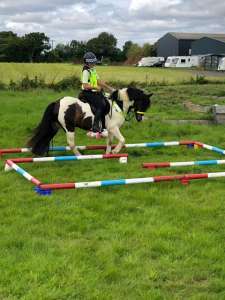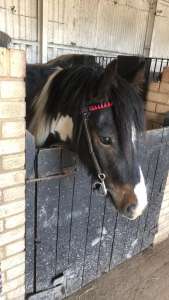 GAMBLE
Breed: Cob x
Gender: Gelding
Colour: Skewbald
Height: 13.1hh
D.O.B: August 2015
Gamble found his way to EHPPS in September 2018 after being found wandering loose on the busy A127.  He was not keen to be captured and after numerous attempts were made to secure him he was eventually contained and transported to safety.  The following day, the EHPPS team collected him and made him comfortable at the Sanctuary.  He took a while to come round to human handling but was eventually ready to go off to pastures new.  He found himself out on foster with fellow EHPPS pony Houdini and underwent his ridden training with a lovely lady name Lesley Gillman.  He has come on so well under her guidance but is still a little bit unsure on occasion which leads us to advertise him as not quite suitable as a children's pony just yet.  Gamble is still currently at Lesley's home in Dunmow, Essex where he can be viewed by appointment only.
---
Lesley has provided us with the following information on Gamble:
"I think Gamble is ready to be rehomed to a small experienced adult. He carries me fine (5'0", 8 stone) and I have done a lot more with him now.
We have been on a sponsored ride and some Trec training. He has been out and about in the lorry for hacks with friends etc. Several of my small friends have ridden him and got on well with him.
I don't think he is suitable at the moment for a child as he can get stressed on the yard and doesn't stand still sometimes when mounting but once you are on and on your" way he is a nice safe ride. I think he just needs another year to settle down before he would be suitable for a child. I am happy for people to come here to see and try him.
PROS:
Loves Hacks
Good with cars,vans and bicycles.
Goes through water and streams
Good with farrier. Is barefoot
Goes first or last or side by side
Good in company or by himself
Good to do ride and lead from another horse
Can mount and dismount either side.
Can do gates
Walks over white lines, zebra crossings etc.
Been over motorway bridge ok
Not very spooky just looks at things like a normal horse. Very brave.
Ok with Xmas tinsel around his neck
Seen coloured poles
Lunged and long reined
Seen arena mirrors
Ok with rugs but show him any new brightly coloured ones first.
Good to bath and with hose pipe
Good with dentist and to worm
Loves people
Loads and travels well. Alone or in company.
Easy to catch, comes when called
Lives in or out
Ok in a herd, loves to play and can stand up for himself if bullied.
Ok to be left on his own
Loves his food
Listens to voice commands and your seat.
Forward going ride and very responsive to leg
I have carried a whip when riding him but have never hit him as he is such a good boy he doesn't need it. Think it would destroy his trust if you hit him.  Think of another way to resolve any problem.
Does not kick
Has never bucked. Arched his back once early on.
Reared twice early on when schooling. I was having an argument with him about standing still (my fault as I pushed him too far and he had nowhere else to go).
Good to groom but only likes soft brush on his hind legs.
Knows how to drink out of auto water bowls.
Has been clipped. Still a bit worried on his legs but able to take his bib , belly and trim up face.
Has seen sheep, cows and deer, dogs
Good with fly sprays and mane and tail sprays
Has been out to Danbury, Thorndon park, Hatfield forest and on sponsored ride.
Also done Trec training day.
CONS:
Don't give him treats as he will start to nip.
Doesn't stand still when strange people get on or in stressful situations But improving.
Doesn't work in an outline.
Hasn't been in indoor school
Trotted over poles but not jumped him.
---
If you would like to find out more or think you could give this beautiful boy the home he deserves then we ask that you complete a foster application form in the first instance. More information on fostering a pony from us can be found along with a downloadable copy of the foster application at the following link:
https://ehpps.org.uk/fostering/fostering-stages/
Once completed either email a copy to [email protected] or post to EHPPS, Pitsea Hall Lane. Basildon, Essex SS16 4UH
Fostering fee of £250 applies