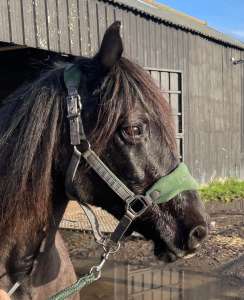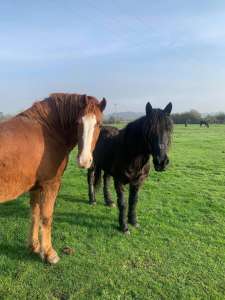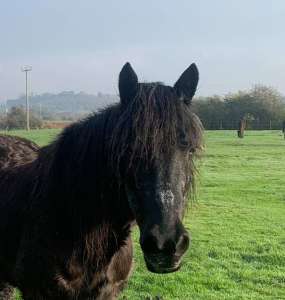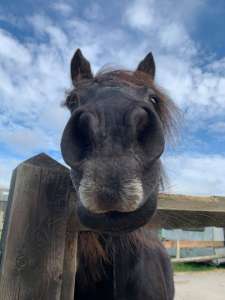 MOLLY
Breed: Cob
Gender: Mare
Colour: Black
Height: 14hh
D.O.B 1998
Molly is on the look out for her very own foster family as a companion pony.
Molly was signed over to us when her elderly owner could no longer care for her and her EHPPS companion, Chilli. The pair returned to the sanctuary together at the end of 2020 and had a strong bond with each other. Molly & Chilli both had laminitis when they arrived which was treated straight away and maintained with correct management.
Once tunred out in the main herd, both Chilli & Molly  found new friends and grew apart. Molly in particular, doesn't like to be too far from her new BFF's. She's a strong minded mare who knows what she wants and will need a fosterer who understand this and will keep her manners in check. She can be a little bit stiff in her back legs when picking out feet and also needs bribing for the farrier… lots of treats and she's happy. Once you get to know Molly and her quirks, she is a sweet mare and loves a cuddle, she just needs the right person with some one-on-one handling to really bond with her.
If you would like to find out more or think you could give this veteran lady the home she deserves then we ask that you complete a foster application form in the first instance. More information on fostering a pony from us can be found along with a downloadable copy of the foster application at the following link:
https://ehpps.org.uk/fostering/fostering-stages/
Once completed either email a copy to [email protected] or post to EHPPS, Pitsea Hall Lane. Basildon, Essex SS16 4UH
Fostering fee of £100 applies