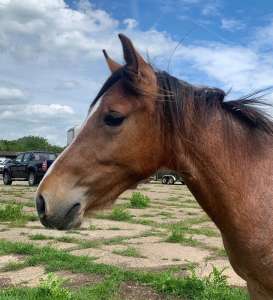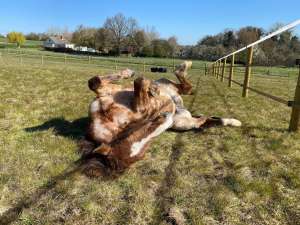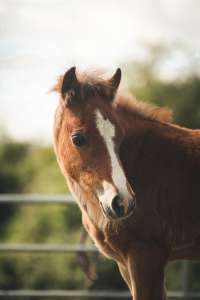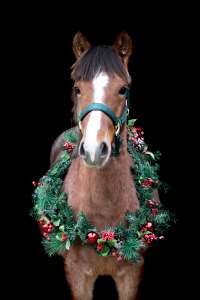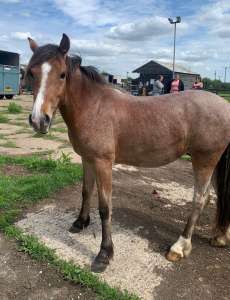 BORIS
Breed: New Forest Pony
Gender: Gelding
Colour: Chestnut Roan (greying out)
Height: 12.3hh (still growing)
D.O.B 6 May 2020
Boris came to EHPPS as part of an RSPCA relinquishment of 11 ponies in May 2020. EHPPS were able to take in four of the ponies, Kylo, Winifred, Matilda and her foal Boris. None of the ponies had received any kind of handling but didn't take too long to learn the basics.
Boris stayed with his mum, Matilda, until he was old enough to be weaned and joined to herd of other young colts until he could be gelded and join the main herd.
He went out on foster with other EHPPS youngster, Banjo in April 2021 and returned to the sanctuary a few weeks ago.
He's a sensitive soul and isn't the bravest when it comes to investigating new things, he would rather hide behind the grooms and let them get eaten first
Boris has also undergone quite the colour change as he's grown up, we think he will eventually end up going completely grey just like his mum and dad.
His parents, Kylo & Matilda, are both out on foster as ridden ponies and are loving foster life. Once Boris is old enough, he will make a smashing ridden pony but to achieve this he will need a foster family to give him the time and patience he requires to develop physically and mentally. The ideal foster family for Boris would be someone who has experience with youngsters and someone who is confident in setting boundaries. A patient person who will be able give Boris the confidence he needs to grow in himself
If you would like to find out more or think you could give this incredibly handsome lad the home he deserves then we ask that you complete a foster application form in the first instance. More information on fostering a pony from us can be found along with a downloadable copy of the foster application at the following link:
https://ehpps.org.uk/fostering/fostering-stages/
Once completed either email a copy to [email protected] or post to EHPPS, Pitsea Hall Lane. Basildon, Essex SS16 4UH
Fostering fee of £170 applies