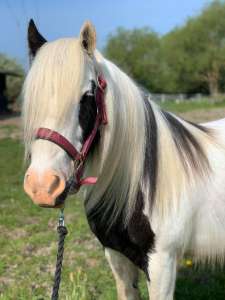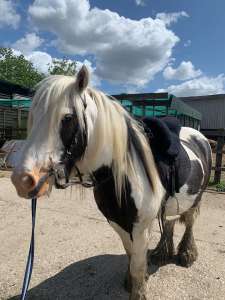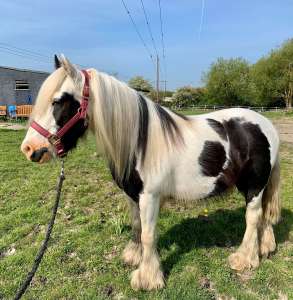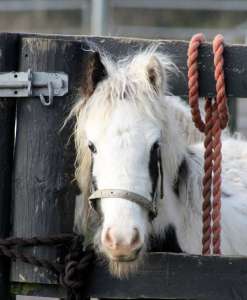 EASTERN  STAR
Breed: Cob
Gender: Gelding
Colour: Piebald
Height: 12.3hh
D.O.B April 2015
Eastern Star was just 6 months old when he was seized by bailiffs along with his two companions Angelo and Gabriel.  The trio were being illegally fly grazed on a site in Wickford and the landowner had contacted the Bailiffs to arrange their removal.  The three colts were at serious risk of being put to sleep should no placement be found which is when we stepped up and offered to take them in.  They arrived at the Sanctuary in November 2015.
It took staff a few weeks to win their trust, they were incredibly shy and had clearly had little handling by humans.
Eastern Star is very sweet and good to handle. He is good for the farrier and enjoys a groom. He is still timid on occasion and would benefit from some one to one handling as we think there is quite a character hidden below that fabulous fringe.  He has spent the past two years out on foster as a companion.  He has been tacked up but hasn't done anything else.  He could potentially be a ridden prospect with experience, guidance, patience and understanding but this will take time and consistency to get there.
If you would like to find out more or think you could give this handsome lad the home he deserves then we ask that you complete a foster application form in the first instance. More information on fostering a pony from us can be found along with a downloadable copy of the foster application at the following link:
https://ehpps.org.uk/fostering/fostering-stages/
Once completed either email a copy to [email protected] or post to EHPPS, Pitsea Hall Lane. Basildon, Essex SS16 4UH
Fostering fee of £170 applies