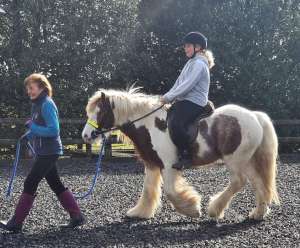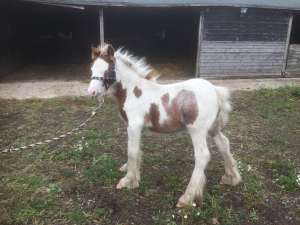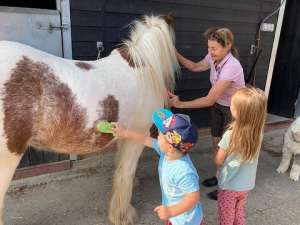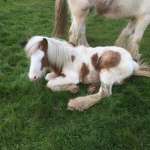 HOUDINI
Breed: Cob
Gender: Gelding
Colour: Skewbald
Height: 12.3hh (still growing)
D.O.B May 2018
In August 2018 we received a call from a fosterer that they'd found a colt foal wandering the footpaths alone with no sign of a mother.
Little Houdini was only 4 months old when we picked him up and was malnourished and scared. Once back at the sanctuary, Uncle Titan took Houdini under his wing and Houdini slowly grew in confidence. Blood test results showed him to be anaemic and he was put on a daily dose of blood tonic, which he loved! Day by day, he grew in strength and melted the hearts of everyone who met him.
In summer of 2020, Houdini went out on 'temporary' winter foster with another EHPPS pony… the lovely Lesley fell in love with little Dini and couldn't bare to part with him. She's done an amazing job bringing Houdini out of his shell and he's now ready for the next step in his journey.
'Backed in July 2021 but still young.
Lead various children on him in arena and out. Will look at new things and just needs to get out more. He's been lunged and knows over, back, walk on, trot and whoa.
Loads himself onto the lorry ok but if bored when travelling will rear but fixed by giving him a lick.
He's good to catch and with sprays, superstar for the farrier and dentist. Will share hay but can get bullied. He hasn't been out and about to any shows just spent the last year on a quiet yard at home. Sweet cheeky little pony who makes you laugh every day. Needs a child to love him and give him some more attention (under the guidance of an adult). He would love other horsey friends to play with as well.'
Houdini is still green and is looking for a home where we can do light work for the next year and build a trust with his human.
If you would like to find out more or think you could give this sweet lad a foster home then we ask that you complete a foster application form in the first instance. More information on fostering a pony from us can be found along with a downloadable copy of the foster application at the following link:
https://ehpps.org.uk/fostering/fostering-stages/
Once completed either email a copy to [email protected] or post to EHPPS, Pitsea Hall Lane. Basildon, Essex SS16 4UH
Fostering fee of £250 applies