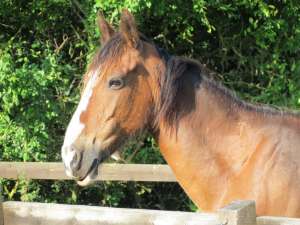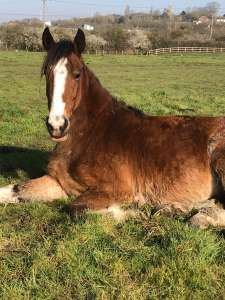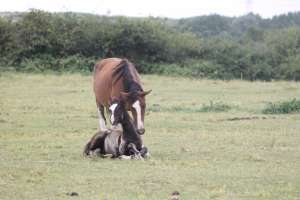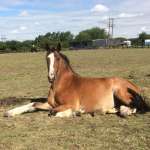 MAPLE
Breed: Trotter
Gender: Mare
Colour: Bright Bay
Height: 14.2hh
D.O.B 2006
Maple came to the sanctuary in May 2019 when she was relinquished to us via the RSPCA, along with 10 other trotters. They were all in terrible condition; emaciated, neglected and terrified of humans. A few of them had young foals at foot too, including Maple with little Ash.
In the two years that the trotters have been here, Maple in particular, they have blossomed. Once Ash was old enough she was weaned from her mother and is now out in a foster home of her own. We could then start the long journey in building a trust up with Maple.
Maple responded well to clicker training and came around to the idea of a head collar and lead rope quickly once she realised sweeties were involved. Maple's personality has really shone through and she has shown herself as a quite, affectionate mare. Although still a bit apprehensive in certain situations, and occasionally a bit of a monkey to catch, she is a quick learner. She likes a groom and a fuss and will benefit from more regularity in her handling. Maple has struggled with the farrier slightly but we believe this is due to her having shivers and she may require sedation to help her cope with this – she coped without the last time she was tended to by the farrier, aided by a bowl of pony nuts to distract her and make the experience a bit more pleasant.
This lovely lady is looking for her perfect foster home as a companion where she can be given the all important love and attention she deserves. She's looking for a companion only home due suffering with a condition known as dropped heels.
If you would like to find out more or think you could give sweet Maple a foster home then we ask that you complete a foster application form in the first instance. More information on fostering a pony from us can be found along with a downloadable copy of the foster application at the following link:
https://ehpps.org.uk/fostering/fostering-stages/
Once completed either email a copy to [email protected] or post to EHPPS, Pitsea Hall Lane. Basildon, Essex SS16 4UH
Fostering fee of £100 applies