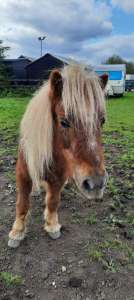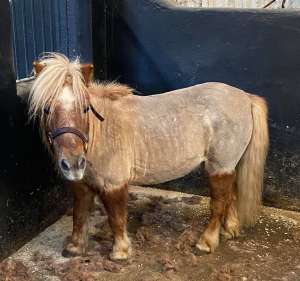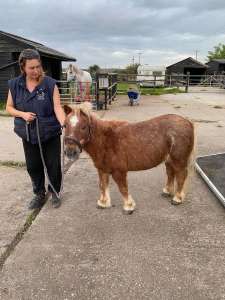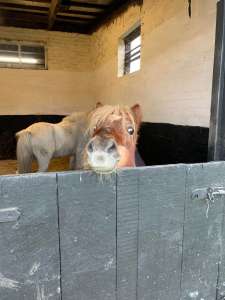 TRIXIE
Breed: Shetland Pony
Gender: Mare
Colour: Chestnut
Height: 9hh
D.O.B January 2000
Prepare yourselves as we introduce you to sassy madam that is Trixie
On October 3rd 2021, we received a call from the local vet practice asking for some assistance. They had been called to a pony in distress that had been witnessed falling into a river in Harlow. The fire brigade, police and vets, along with some members of the public, managed to get her out and wrapped her in a foil blanket. We happily agreed to accommodate for the pony.
Back at the sanctuary, little Trixie settled in to her life here straight away. A full health check was carried out and the team clipped her thick coat that she was clearly struggling with. She does have slight issues with her back end, which causes her to struggle with the farrier, some bute, time, patience and understanding helps her through.
This little sass pot is your typical definition of a Shetland. You have a secure fence? She'll find a way through. You want an easy day? She'll make it difficult.  Howver, despite all the sass and drama, she is loveable and you can't help but smile when you see her. Trixie has such a big character and really enjoys every aspect of life. She has recently come back from winter foster with another of the EHPPS ponies, Poppy. Poppy is lucky enough to have found a companion foster home already so this little lady is looking for a new best friend.
If you would like to find out more or think you could give this little old lady a loving home then we ask that you complete a foster application form in the first instance. More information on fostering a pony from us can be found along with a downloadable copy of the foster application at the following link:
https://ehpps.org.uk/fostering/fostering-stages/
Once completed either email a copy to [email protected] or post to EHPPS, Pitsea Hall Lane. Basildon, Essex SS16 4UH
Fostering fee of £100 applies