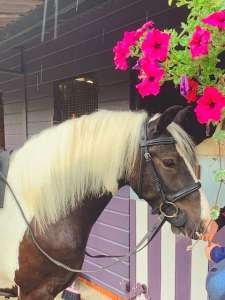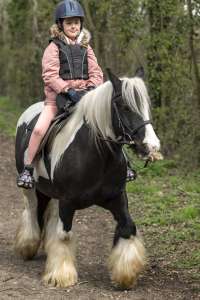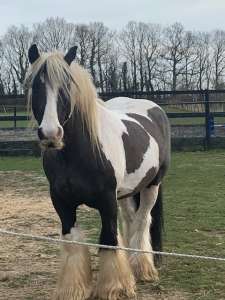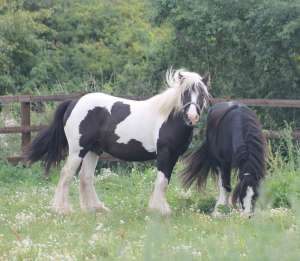 VIKING
Breed: Cob
Gender: Gelding
Colour: Piebald
Height: 12.3hh
D.O.B 2014
Handsome Viking is seeking his next foster home from his current foster home with a lady named Sandy Hardy.
Viking came into the care of EHPPS along with his little friend Milo, in August 2017. The delightful duo were found abandoned and had spent over a year at a greenyard being brought back to health.  Once they had been there for a year, without a home being found, they were destined to be put to sleep.  Neither the greenyard nor EHPPS wanted to see that happen so we managed to squeeze the pair in at the Sanctuary.
Sandy has had Viking on foster for 4 yrs now.  he was initially only ever meant to go on winter foster, but needless to say, he captured her heart.
He is still green, looking more experienced than he is, as Sandy has never had a consistent little rider for him. He would make a cracking little driving pony as another option to being ridden.  He loves people, fuss, and adores kids (he is not a suitable pony for a novice rider). He has become a very much loved character in the Hardy home but Sandy feels she is not the person to proceed with his ongoing education.
Sandy is happy for any interested parties, to view him at his current home, rather than unsettle him by sending him back to the sanctuary, and she feels she can then help answer any questions potential fosterers may have.
He has been a sweetheart to educate and has walked down and past very heavy traffic with Sandy, carrying a young rider.  He has been long reined all around the roads, experienceing all the sights and sounds, including dustcarts.  His training has utilised the natural approach to his training.  He walks, trots and canters to a click or kiss sound, and stops when asked with a head tilt although he knows the words: walk, trott, canter and woah. He jumps over jumps free-schooled (has not with rider). He has followed out on hacks and has cantered along behind nicely.
Viking has now ended up as a field ornament due to the school commitments of his fosterer's young niece, and he has not had much independent riding, he really needs a purpose and would thrive with either a very lightweight experienced adult, or an established child with a supportive parent.
If you would like to find out more or think you could give this incredibly handsome lad the home he deserves then we ask that you complete a foster application form in the first instance. More information on fostering a pony from us can be found along with a downloadable copy of the foster application at the following link:
https://ehpps.org.uk/fostering/fostering-stages/
Once completed either email a copy to [email protected] or post to EHPPS, Pitsea Hall Lane. Basildon, Essex SS16 4UH
Fostering fee of £250 applies