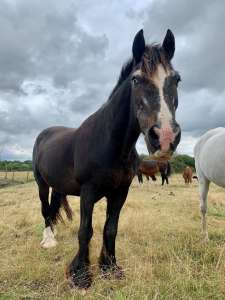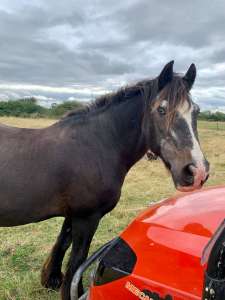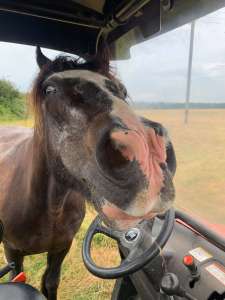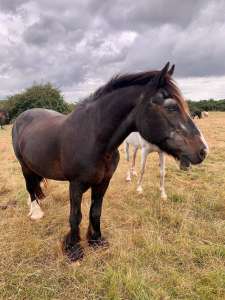 ZEUS
Breed: Cob
Gender: Gelding
Colour: Dark Bay
Height: 14.2hh
D.O.B 1993
This cuddly chap is Zeus.  He came into our care back in 2009 when he was found wandering loose on the A127 along with his companion.  After getting onto the road a few times Zeus's owner relinquished him and his companion into the care of EHPPS.
Zeus spent many years out on foster as a companion before returning back in 2016.  He has since been out to a couple of foster homes but found himself back at the Sanctuary earlier this year when he proved a bit too strong for his fosterer.
Zeus is adorable, he's a loveable chap but doesn't realise his size and if you're not careful will drag you along without even realising it (and sometimes he definitely knows he's doing it).  In recent years he has become a bit stiff in his hind legs, possibly due to arthritic changes, and now he requires two bute to be administered an hour before he is treated by the farrier, he struggles to lift his legs up for a long period of time otherwise.  Zeus also suffers with sweet itch which can be kept at bay with a combination of marmite sandwiches (yeast) and topical applications of Benzyl Benzoate.  He also responded well to the Well Gel range.
Zeus is very friendly and gets on with everyone.  He very much likes the company of his own kind but adores grooms and attention from his humans too.
Zeus is looking for a companion home with secure/electric fencing to prevent him itching, understanding of his ailments and mostly just someone to give him hugs and marmite sandwiches for the rest of his days.
If you would like to find out more or think you could give this veteran chap the home he deserves for his twilight years then we ask that you complete a foster application form in the first instance. More information on fostering a pony from us can be found along with a downloadable copy of the foster application at the following link:
https://ehpps.org.uk/fostering/fostering-stages/
Once completed either email a copy to [email protected] or post to EHPPS, Pitsea Hall Lane. Basildon, Essex SS16 4UH
Fostering fee of £100 applies