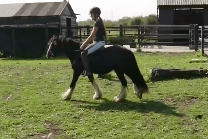 Name: Milo
Gender: Gelding
Date of Birth: 2014
Height: 12hh
Colour: Black
Breed: Cob
Fostering donation required: £180 + £20 annual membership
RIDEABLE – in ridden training
ABOUT: Milo is a cheeky chappie who adores a bit of attention, in fact he can often be seen strutting his stuff round the field trying to impress all the laydeeez (unsuccessfully).  Milo is in the early stages of his ridden training and is currently learning to trot under saddle. He loves being told he's a good boy.  You can't fail to fall in love with this small cob, he's got wonderful markings and a wonderful nature…. Watch him when he drinks though, he likes to dribble mouthfuls on you when you're least expecting it.
Milo is looking for someone to encourage his learning, love him, hug him and go out and have fun on him when the time is right. Could you be that person?
HISTORY: Milo arrived at EHPPS in August 2017 along with Viking.  They had been abandoned and ended up at a greenyard a year prior to their arrival where they were brought back to health.  If a home isn't found within a year the horses in the care of the greenyard are sadly destined to be put to sleep – neither the greenyard or ourselves wanted to see that and we managed to fit them into our already overstocked sanctuary.
If you are interested in fostering Milo or any of our other horses please download and complete our foster application form which can be found at the following link: