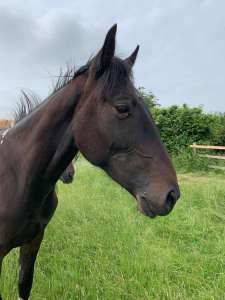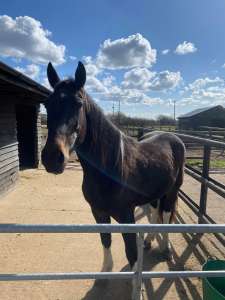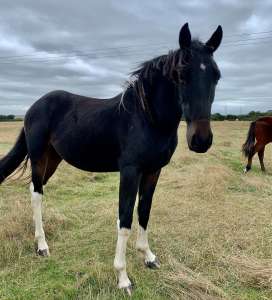 CHANCE
Breed: Trotter
Gender: Gelding
Colour: Skewbald
Height: 15.2hh
D.O.B 2019
Chance was found by the police running loose on the roads of Romford and ended up with the local livery yard. The lady at the livery yard held the young colt for 5 weeks to see if any owners came forward, needless to say, no one claimed him and EHPPS were asked to take him in.
Chance has an old injury to his hind pastern which healed in a bump of calcified bone. Sadly, this means Chance will only find a foster home as a companion. What's worse, is the poor youngster's injury was more than likely caused by being worked too hard at such a young age, he was shod on all fours meaning this young boy had been in work at just 2 years old.
On the 5th of July, he arrived at the sanctuary, he was castrated and turned out with our herd of young boys, thoroughly enjoying their games of rough and tunble, something a horse of his age SHOULD be doing, and not racing delicate, growing limbs across hard concrete at silly speeds.
Chance is such a sweet sould who gets on with everyone within the herd. He spent last winter out on foster as part of our annual Temporary Winter Foster Scheme.  He went to a lovely young lady who was completing her Duke Of Edinburgh. He received a gold star from his fosterer for being the best behaved 2 year old they've ever had! He's now on the hunt for a permanent foster family.
If you would like to find out more or think you could give this handsome lad the home he deserves then we ask that you complete a foster application form in the first instance. More information on fostering a pony from us can be found along with a downloadable copy of the foster application at the following link:
https://ehpps.org.uk/fostering/fostering-stages/
Once completed either email a copy to [email protected] or post to EHPPS, Pitsea Hall Lane. Basildon, Essex SS16 4UH
Fostering fee of £100 applies