Our aim is to put any of our rehabilitated horses or ponies that are suitable for re-homing into experienced and knowledgeable foster homes.
There are a few core residents who will remain with us permanently due to medical problems and / or age (too young or too old) who will not be considered for fostering purposes.
Every horse or pony successfully fostered ensures that the animal is receiving one-to-one care (something we simply can't do with the amount of horses that we have to deal with).  Equally important is that every time we re-home a horse through our fostering scheme, another space becomes available for us to help another needy case.
Our small dedicated team of staff and volunteers work tirelessly to nurse and care for our animals.
We look for loving, experienced, long term foster homes for our horses and ponies.
When we re-home a horse or pony from the Sanctuary, we do so under a Fostering Agreement. This means that, although you will be completely responsible for the horses' everyday care and exercise, you will not be the legal owner of the horse.   EHPPS retains ownership of the horse at all times.
If your Fostering Application with is us successful, you will be asked to sign a Fostering Agreement, which means that you agree to abide by all the terms of the Fostering Agreement.  In addition, you will be asked to complete Equine Log Sheets for the horse whilst in your care, which detail when the horse is wormed, seen by the farrier, dentist, vet etc. It is a strict condition of our fostering criteria that all fostered horses and ponies are fully covered on a recognised equine insurance plan. The insurance must cover veterinary treatments and public liability in particular. The horse/pony will be checked by one of our Fostering Officers every six months for the rest of its' life, with more frequent checks at the beginning of any fostering arrangement, to ensure that no problems are arising.
Whenever we re-home any of our horses or ponies, we ask for a fostering donation, which goes towards the continued care of the rescue horses and ponies under the Society's care. The level of donation depends on the size of the horse and its abilities.
Fosterers are responsible for every day care and exercise of their foster  horse.
Every horse that goes on foster creates a space for another need equine in need of our help.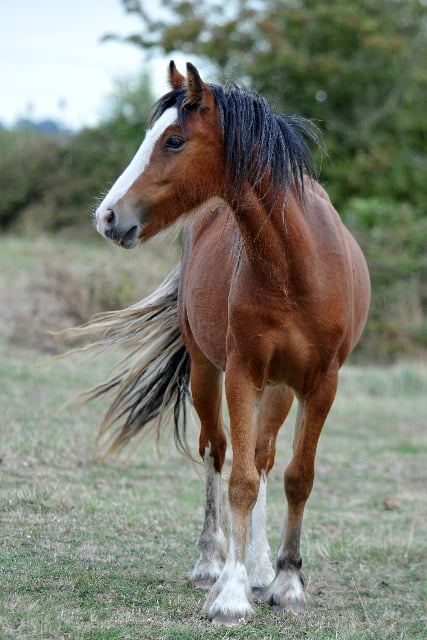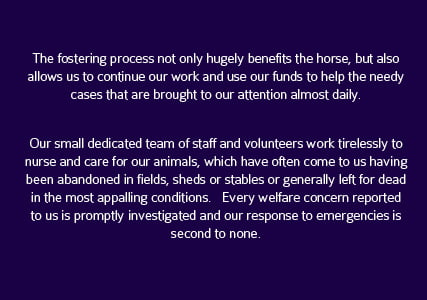 Do you have some love to give to one of our rescue horses or ponies?  We have many non-rideable horses and ponies who would make excellent companions and would just adore the chance of becoming part of an experienced and loving family.
Please see our Fostering Stages page for full details of the process.
If you would like to proceed with a Fostering Application, the form can be downloaded here